Affiliates Talks: Vladimir Arbitrazh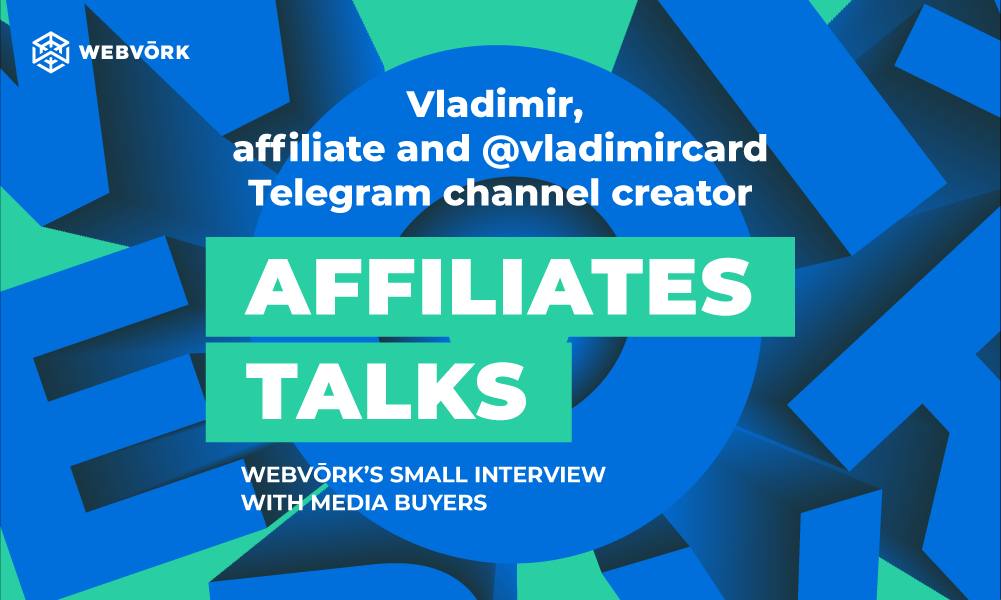 Today, we're interviewing Mr. X – a mysterious young man in the world of affiliate marketing who wished to only have his name disclosed – Vladimir Arbitrazh. We talked with Vladimir about selling paintings on Instagram, about working as a salesman and a cab driver. And also, we talked about how you can create an affiliate marketing Telegram channel that gets dozens of active comments almost daily, without investing a single ruble in it, about a way to overcome Facebook holds, about high trust criteria, about how to unban Facebook accounts with just two magic words, and so much more!
1) Let's start with some background. How did you get into affiliate marketing, what was the starting point when you realized that this was your path?
Hello! Thank you for the interview! The story of how I got into affiliate marketing started back in the years when I started to get interested in affiliate programs and the like. Basically, I came across some products in the information marketing niche. As far as I remember, they worked using the glopart platform (they used to sell all sorts of pickup courses, 25th frames, and other stuff). At that time, I didn't have that much strength to do anything. Not at all, though it was extremely interesting to watch them sell that. The first attempts were limited to small campaign launches with a limited budget using the help of Instagram's relatively free traffic, and once a year, I would launch a Facebook campaign and advertise some safe-to-sell products. At the same time, I was engaged in hired work and my interest did not fade away, I read various blogs about affiliate marketing on Vkontakte, was buying some learning courses. Unfortunately, these attempts had been happening apart several years from each other, so as the saying goes, if you run after two hares, you will catch neither. And in order to wholeheartedly run after one, it was necessary to prepare myself, both financially and morally since any big decision in life is accompanied by stress and doubts. But fortunately, now, the main stages of building a life route are all lined up for me. It remains only to constantly improve myself and keep testing something new and interesting.
2) You are a person who's been through a lot of different scenarios and areas due to your life circumstances. One of the niches of your work was selling paintings on Instagram. In one of your interviews, you said that you didn't believe in this business. Do you not believe in it even more now? Or if you were in that place now, would you do anything differently?
Absolutely any type of activity in the 21st century can be monetized thanks to Internet traffic. The blunt truths are that the one who owns the traffic owns unlimited resources in terms of the development of a project. Therefore, with the proper approach, you can make an impressive result in any area and with any product for sale. You just need to understand how. And for this, you need to gain expertise and experience in order to have an idea of how to bring a client from the Internet to buy a particular product.
3) We also know that you worked in direct sales. What were your area and position? You mentioned that it was in direct sales that you encountered about 30.000 live people in a year and a half of work. Was it hard work and what experience did you gain?
The position is still widely developed around the world and is called a traveling salesman. Yes, almost like in the movie The Founder and The Pursuit of Happyness. Only all the activities took place without much drama as in those films. But not to say that it was easy. I can assume, giving an allegory, that it would be like if now you would be given the task of creating such a sales funnel, in which a person who, having seen an ad from a casino, without having any strong emotions toward it, instantly got to your site with an application form. Without any warm-up and high-quality sequence of user actions. So, you can't find colder customers than in direct sales anywhere else. Over time, the ability to quickly and subtly close transactions for the sale of a particular product was a newly acquired skill for me. I got many acquaintances, we were building teams, and I developed such qualities as stress resistance and the desire to achieve the goal at all costs. I also took away another useful point that surrounds us all to this day and it is called the Law of Probability. And it goes like this, every 10th client is a client that you get a deal from, although, on the 9th client, it may seem that victory is far away. This practice also applies to affiliate marketing. For example, in terms of offer testing. So here we are.
4) In one of the interviews, you said that you started keeping a private diary when you were driving nutra and safe-to-sell offers' traffic. Do you still keep your notes or something similar and does it help you?
Yes, I post my thoughts and observations from time to time. But more often than not, oddly enough, you have your own paper diary at hand, in which you can lay out all your thoughts and reasoning, lay out failures and achievements on a piece of paper, and eventually look at yourself from the outside. Undoubtedly, a sincere dialogue with oneself is the starting point for understanding true desires and achieving goals.
5) What verticals do you work in now (and why do you think they are better than others) and what was your maximum profit for one offer?
Now, my main vertical is adult offers on Facebook. I will not name specific points why this or that vertical is better or worse. Everyone's experience differs. Everyone excels in their particular field. However, I dare to note one fact that has helped me more than once – don't stop at one vertical. Yes, of course, you can dare yourself and strive to achieve results, for example, in the weight loss niche. But what is the use of this if time passes and there is no progress? Therefore, changing and trying something new is one of the key factors influencing your success. And as for numbers, well, good achievements are different for everyone. And the question should be specified both in terms of the time frame and the number of people who were driving traffic to that particular offer of yours (since most of the time, I worked together with a friend). I do not consider it necessary to peek into someone else's finances. You need to poach experience from someone who has more of it. And the money is just a nice bonus. Having money and being able to multiply it is only a reflection of the fact that your path is the right one.
6) Your Telegram channel "Vladimir Arbitrazh" is quite active, it has almost 4,000 subscribers and dozens of comments under the posts. At the same time, you said that you had not invested anything in advertising from the very beginning. Which methods and tools brought you such a success in the Telegram affiliate marketing community in such a short time? Plus, how many hours a day do you devote to it and do you do it yourself or do you have someone else to help you?
Thank you, if that was a compliment. You correctly noticed everything – I did not consider and do not consider it necessary to pay for something that, in fact, is more of a hobby. At the same time, I'd like to note that there is definitely one sacred meaning of running a channel – I find growth points for myself by helping others and presenting useful information to people who are interested in it. This causes a certain symbiosis of our efforts and benefits since I also receive my benefit in the form of useful insider information and my own progress, and from me, people gain confidence in their campaign approaches and easily find answers to their questions. I run the channel alone. I devote little time to this and try not to chase a certain perfect number of posts. If I have ideas and new insights, I post them. However, it often happens that even designing an article's look takes a lot of time. Well, to be honest, sometimes I firmly believe that it all will benefit someone, and that will add +10% to my ROI. As for the methods, these are sincerity and discipline. Perhaps, these are the main criteria for the community to find coziness and comfort for all its members.
7) You said that you haven't used any other sources for your campaigns other than Facebook, since Facebook itself isn't yet "worn off" enough by you. What else do you have to achieve on Facebook?
Good question. Firstly, Facebook is a hole where even after 2-3 years you can look back and realize that you still can't understand anything. Yes, some patterns have long been understood and revealed. At the same time, there is still so much to be unraveled. The platform is dynamically changing and you need to be constantly in trend to have useful and up-to-date information.
Secondly, there is really a lot of money on Facebook. And its age has not yet gone by. Offers, sales funnels, and our approaches change. But there will always be those people who make seven digits even working alone. This can't help but motivate.
Thirdly, this is really something that, at this period of time, personally fascinates me. It's interesting, it's like a quest. If I get bored, I will leave it without a second thought and forget it like a bad dream.
8) You described an interesting situation with payment holds on your public page: an account with a $25 limit. You approved the hold, drove your traffic, then changed the billing threshold from $30 to $5. There were no holds for 3 days. Then, you did get those payment holds, but as you said, some transactions under payment holds were marked as settled. Next, you again removed the manually set billing limit. And the bill began to grow without payment hold time. What was the further development of the situation? Was this really a way to overcome payment holds? Or is it really possible to overcome payment holds only with the highest quality accounts?
You noted everything correctly. And you rightly said that all this excessive hustle can be avoided simply by using high-quality accounts and proxies. Do not neglect the time your accounts need to sit still and gain some lifetime on Facebook. Each of these listed variables is only part of the overall decision in the eyes of Facebook whether to deem your payment as a risk and put a hold on it or not. Facebook never issues a ban for something specific. A set of variables always comes into play, on the basis of which Facebook decides how exactly it wants to punish you. Therefore, if you focus on the quality and consistency of actions, then you can ensure that your risk payment on hold will disappear. And yes, all these tricks work, and there were even precedents when holds were troubleshot via support. But it is better to avoid all this from the get-go – provided that you have a tight turnover. Other than that, hold time shouldn't bother you. It is better to concentrate on your campaign and work with it.
9) In your Telegram community, you asked about a certain Vietnamese antidetect browser, kikilogin. You asked colleagues for their feedback on it. Did you manage to hear someone's experience on this antidetect tool or test it yourself? What antidetect browsers have you used before and use now, what comments would you give on each of them?
Fortunately (or unfortunately), I'm not an expert in antidetect browsers. I have a couple of well-known tools in my bag of tricks that I use to this day. I don't think it's worth giving advice here. The best way is to take it and test it, play around with the settings. And to be honest, I wouldn't bother with it at all. Your antidetect tool will not affect your conversions in any way. The same Vietnamese use a profile in Google Chrome with VPN turned on and that works okay for them. Also, do not forget that everyone has their own needs in pricing policy. I didn't get any feedback on Vietnamese antidetect browsers. At first, it seemed like an interesting solution, but in our narrow circle of publishes, we had rumors that their competitor of Chinese origin would be cheaper and seemed to be more functional.
10) Do you agree that the main criteria for high account trust are a verified domain and a verified Business Manager account (especially when re-attaching an account)? Are there really such different results for those who confirm and do not verify their domain?
You are now talking about two different concepts. We verify domains in order to track leads from iOS devices of the latest generations that have refused to be tracked. And we can only guess what kind of trust such a domain will have for your ad campaigns. However, ads on verified domains also get rejected. In this case, you need to consider your turnover – are there that many Apple device users in the targeted GEO to carry out all these manipulations? As for Business Manager verification, to be honest, I don't think it's necessary to spend money on it, and believe that it will save you from ad campaign bans. Hypothetically, your Business Manager itself can live longer, but for these purposes, you can also purchase a Business Manager account that's passed advertising restrictions, which will be many times cheaper.
11) In April 2022, you wrote an article on how to search for campaign approaches in AdHeart. Is this method still relevant or would you make some adjustments now? Or perhaps you predict some changes in 2023?
I would not make any significant changes to the methodology for finding working approaches. The only thing worth noting is that Facebook's advertising library itself is now actively gaining popularity. This is a good source as an additional tool for searching and analyzing ads. This now should be taken into your strategy and used in conjunction with a spy service.
12) In one of your community posts on the topic of finishing off bills, you mentioned that fan pages are easy to unban if you select the 3rd option and add 2 magic phrases to the text of the support message, "Dear Meta" and "Help". Does this hypothesis still work and has it ever happened that your fan page was not unbanned when your message to the support contained these 2 words?
It's a controversial issue from more of an esoteric category. One thing we know for sure – if Facebook allows you to unban your fan page, then it comes out very well. Still, we are more than sure that the 3rd option gives more privileges for unbanning. As for specific words, this is just my hypothesis. Because fan pages are clearly not checked by real people. And when the artificial intelligence sees the words of respect and help, then, hypothetically, it is more keen to unban your fan page. Again, if this is true, then it doesn't apply during a storm period when none of our ways work.
13) Not everyone may have noticed that in 2023, Facebook's privacy policy made significant adjustments. You are one of the few bloggers who discussed the issue in detail on their Telegram channel.
So, what do you think Facebook's updated privacy policy will lead to? In the policy, according to you, Facebook explained that "the decision to reject ads is now no longer discussed or explained" and disclaimed their responsibility for ad performance and personal data.
Yes, it seemed strange to me that (by contradiction) this warning is still up in all ad campaigns if there is nothing really important there. Even now, when over a month has passed since the New Year. So, I decided to dig deeper. But I didn't find anything super specific and intelligible in Facebook's words. Some phrases seemed interesting from the general context. And maybe they have some meaning. We can only guess and continue to drive traffic, defending our ad campaigns, fan pages, and mental health.
14) Were you the one who recently discovered the gif method of confirming your documents when passing advertising restrictions for violating the rules? Or were you inspired by someone?
Again, unfortunately or fortunately, our friends from Asia often find some bugs or shortcomings in Facebook faster. First of all, this is due to the fact that all their work is focused on finding such platform flaws in order to further resell these tricks or advertise supply shops. We have a different ideology. We drive traffic and gain expertise in this business. Therefore, based on your question, I can confidently answer that the first trick with gifs was not discovered by me and it's not a secret for anyone, I just managed to pack it so that it would be clear to everyone while making my own useful adjustments at some points. Now, a new wave of the gif trick has come and I'm sure that soon it will be out in the public. And how long it will live is another question. Whether it is mandatory for the guys who are engaged in traffic – I wouldn't say that. Do account farming services and shop owners need it? Most likely. Therefore, it's not all certain and it's better to fill your head with tests of your hypotheses for your ad campaigns than to enjoy the pleasure of passing advertising restrictions in just 2 minutes.
15) What would you advise to those who read the entire interview?
Good vibes, loyal and ambitious people around you, joy in your work. Never give up and go ahead of everyone!
🔥 Sincerely, Uncle Vova!
🟢 My Telegram: https://t.me/vladimircard