Affiliates talks: Pavel Approvidze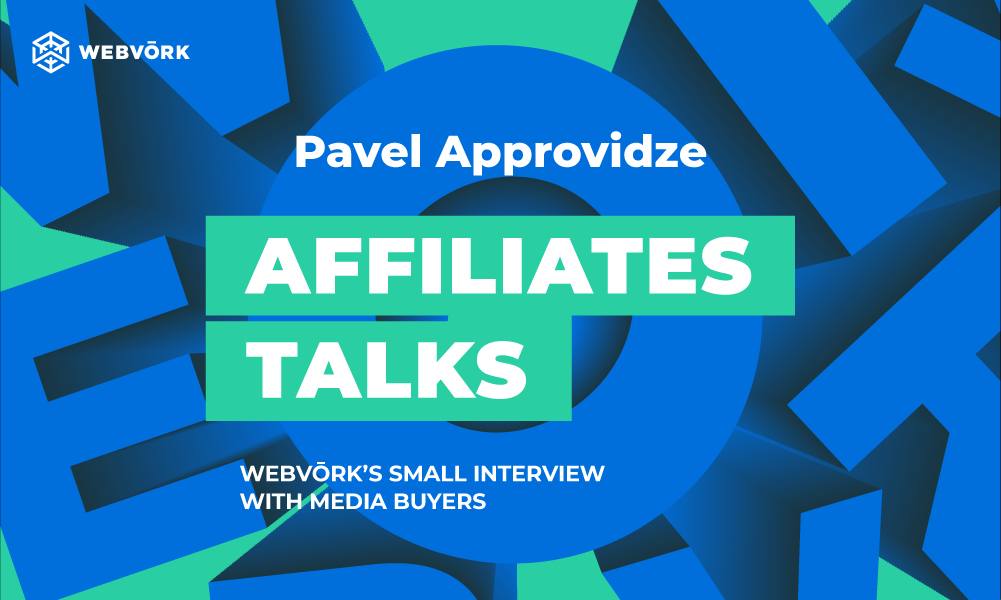 Hi everyone! The guest of today's interview is Pavel Approvidze, a guy with a really great background. Pavel managed to play the role of an affiliate manager, a publisher, and now he is a co-founder of an affiliate network. Pavel told us about his experience, about what skills, acquaintances, and knowledge helped him to open his affiliate network. We also talked about ad campaigns, traffic sources, and so much more. The article turned out very interesting, so sit back and enjoy your reading.
1) Hello, Pavel! You have achieved a brilliant result in the world of affiliate marketing in such a short time. You used to be an affiliate manager, a publisher, and now you have your own affiliate network. Please tell us how you managed to achieve such success. Hard work, luck, education – what played a key role?
It's everything except for education. But I wouldn't say that I have my own affiliate network, I am a co-founder. Our partner program is the fruit of the labor of many people. First of all, my competence and a wide circle of acquaintances is what led me to this position, which allowed me to find the right people for all the jobs in the affiliate program literally from the start.
2) Pavel, tell us a little about the nuances of opening your affiliate network. Where to start, how expensive it is in terms of time/money, what difficulties arise in the process?
To answer this question, you need to clearly understand the business model of your affiliate network. If you want to resell goods, then the investments are minimal – the salaries of your first employees, monthly payments for the engine, servers, etc.
But in the current realities, the reselling market is very divided, it is difficult to quickly and confidently enter the market without having your own product.
If we talk about when the affiliate network is also an advertiser, then, of course, the investments must be pretty decent, and there are much more pitfalls. The main task is to focus on good approval rates, this is achieved by balancing the call center, logistics, and technical solutions. At the same time, you need to understand that the turnover of money here is a much longer process, the buyout isn't immediate, and you must pay for confirmed leads at the same moment they come.
3) There must be a lot of people working for you. Tell us about internal buying, about the employees of your affiliate network, how many people work there, and in what positions. In what direction do you plan to develop the network? Do you need employees, and if so, under what conditions?
Since we are an advertising affiliate network, we have our own call center with about 250 employees. We also have our own delivery service, our own logistics specialists, packers, drivers, and more. If we talk about the advertising aspect, there are at least 400 employees, but almost all of them are located in Peru, Mexico, Chile, and other Latin American countries. If we talk specifically about the part that directly relates to the affiliate program, then there are about 30 employees. This is, first of all, the affiliate and account managing department (6 people), buying (10 people), financiers (3 people and a dog), lawyers (2 people), tech department (4 people), and management.
From the point of view of the market, we are a new, growing partner network, so, of course, we constantly need new employees.
At the moment, the main departments that need new people are buying and marketing. Competent specialists are welcome; in buying, people work on commission and marketing specialists – for a salary and KPI.
4) You have your own solution for bank cards that can be linked to Facebook (banned in Russia) and Google. Please tell us how it can solve the current problems of our affiliates, what are the limits and conditions? Planning to launch it for the public?
Our solution works only for our own offers, we plan to release it to the public when the full-on application for publishers is completed. For us, this is about solving the problems of our program's publishers.
5) Tell us which proxies are best suited for finding others' ad campaign approaches? It's one thing to work with Facebook Banned in Russia), another thing is to break through the filters of cloaking services and trackers in order to find other people's cloaked ad campaigns. And you need to have high-quality proxies for the latter, and there are so very few of them on the market.
You need to understand that this field is constantly being updated. When my report came out at the Nutratech meetup, 911 proxies were enough. This is a very high-quality proxy service, we were able to break through 99% of cloaked ad campaigns. Since then, I have heard that there's been a new solution that cannot be penetrated from spying services, but the problem is not in the proxies. Unfortunately, I cannot tell you anything else.
6) What can you tell us about traffic sources? Which source do you think is the most relevant now, and why?
To answer this question, you first need to understand what the affiliate is driving traffic to, what vertical, and what GEO. Let's talk about nutra and foreign GEOs.
Facebook and Google are still ahead of the rest. It's just because of their wide audience and a great range of targeting tools. The third place is shared by teaser networks and TikTok.
In the near future, TikTok will gain momentum and try to reach the absolute top 3 together with Facebook and Google.
But I doubt that someone will drive Facebook out of first place in the next 5 years.
7) How has FB changed in the last 2-3 months? Is it easier or harder to launch ad campaigns? Do you have any advice on launching campaigns?
The main thing that hit affiliates was the disabling of payments in Russia, not including Facebook's seasonal mood swings.
On the one hand, due to problems with payments, it did in fact become more difficult to start.
On the other hand, the auction became freer, many teams disappeared, unable to find solutions that would allow them to keep the same results.
It has obviously become more difficult to launch ads from Russia, while it has become easier to launch from abroad. My advice to affiliates here is to launch their accounts outside of Russia. For example, our buying department moved to Georgia.
The last point sounds like a joke, but it's actually very good advice. Considering moving your team somewhere in the CIS is a very good and long-term solution in the current circumstances.
8) Has anything changed in terms of accounts? What accounts are you currently working with? Which accounts do you use as your main ones, and which ones do you use to run ads?
From the very beginning, our buying never worked with standard approaches with main accounts, auto-registered accounts, etc. Since my partner manages the buying, he had his own Facebook solutions created over 2 years. This includes, among other things, Facebook agency accounts made personally by him. We drive white nutra, spending 40-60k dollars in each account. We have hundreds of such accounts and don't even have enough people to drive all the traffic we can.
9) Surely you know or have heard about the "master pixel" when one profitable pixel is shared through new accounts and new launches. Tell us how relevant this scheme is and does it work at all?
It works, we have been meaning to employ it for a long time, especially since it fits perfectly with our Facebook approach. It is actively used for white offers in foreign GEOs, but, unfortunately, we have not yet reached this point.
The tool as a whole is excellent, not only does it allow you to improve targeting, but also to collect a user base. This base can be used in the future for retargeting through this same pixel.
10) What do you need to know and what kind of acquaintances and skills does a solo affiliate need to have to work with Facebook in order to stay afloat in the current situation?
It is important to understand that the criteria for staying afloat are different for everyone. If you want to get $1.5-2k a month on affiliate campaigns, you don't need special knowledge and acquaintances, you need to be able to search and analyze information.
If we talk about decent income, at least $5k a month, you need to at least know how to delegate routine tasks and automate everything that can be automated.
To summarize:
It is desirable technically and motivationally to shoot ahead of most market players and have a good psychotherapist in order to continue working as a solo affiliate in the current situation.
11) Please tell us how and where to look for quality sellers and how to properly test them.
Everywhere, but in fact, most often you will get decent contacts only from good acquaintances and friends from the market. Sometimes, affiliate managers have something or someone to recommend.
You can only test involving money. Buy multiple accounts and get them to work.
12) What budgets do you allocate for ad campaign approaches tests? Let's say, you're driving traffic to a joint offer in Italy with 4 landing pages. How much money will you spend on the test? What click-through metrics will you reach then?
It depends. On average, we do 2-3 bids per offer for 1 landing page in order to draw conclusions about the conversions of this landing page.
To answer your specific example: the average rate in Italy will be $30-40, we will spend $60-80 on each landing page. In total, we get $240-320 for testing these 4 landing pages. It's possible to draw conclusions about a landing page's conversions after 200-300 clicks.
13) Why did you abandon your Telegram channel (https://t.me/manager_Pasha)? Do you plan to continue making content and sharing news?
The channel is waiting for its rebranding, it was called "manager Pavel", and now this no longer reflects my current state. It is not entirely clear what I should talk about next, so it is temporarily paused, but will definitely be active again.
14) Give advice to those who read the entire interview.
Don't listen to those who tell you that you won't succeed. I was fired from the first affiliate program due to being "incompetent".
The last card you turn over is the only one that mattersю