Affiliates talks: Gadel Zagirov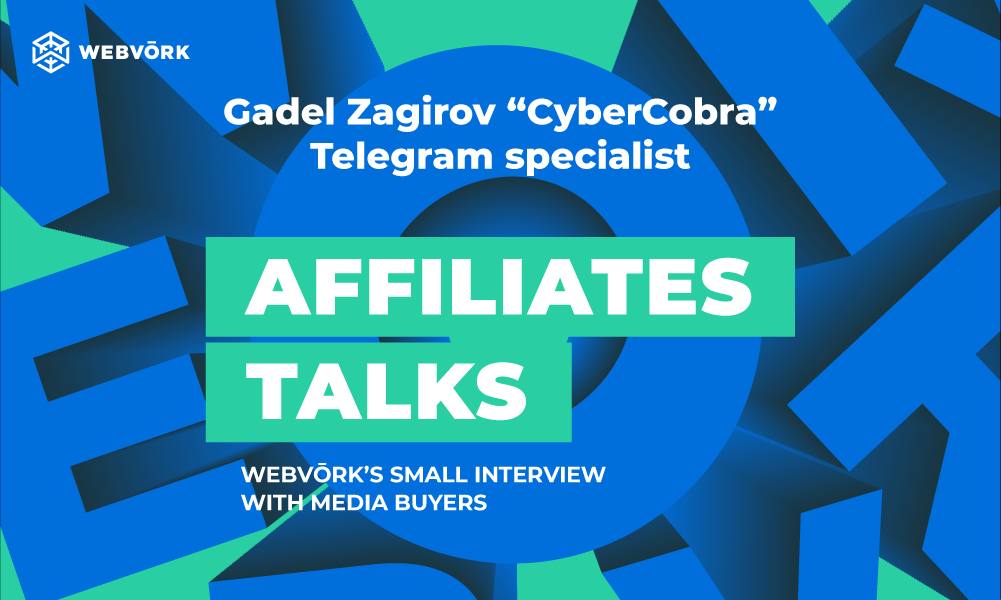 For today's interview, Webvork welcomes a Telegram guru, a specialist in web processes automation, the owner of the Telecobra platform that sells software for ad promotion and lead generation on Telegram, a specialist in Telegram affiliate marketing (which he will tell you about and more on his YouTube channel called Cyber Cobra) , as well as just a great person – Gadel Zagirov!
1) Gadel, how did you leave the position of a system administrator and a 1C programmer and enter the information business, and then as a partner in the best-selling information product of Russian internet in 2013? And of course, we would like to know more about this product, and about the high sales that, as we know, this product had.
It's an already too banal fact from my biography, which, to be honest, any adequate person wouldn't even mention, but this is truly something that I have done in my past.
I participated in the Dyusupov-com startup, was responsible for working with partners and logistics. These were DVD discs of a Kazakh healer that became the information product of the year in 2012-2013 in terms of sales. It was a great experience, albeit a bad one.
2) As far as we know, you further came to affiliate marketing from information marketing. What year was that? Was this decision made because you realized that affiliate marketing is something attractive for you in the info marketing niche? If yes, then how exactly?
That was back in 2014-2015. After I left the Dyusupov project, I had to make money to live… Since I organized the entire project's sales process, including work with partners and payments, I had a bunch of campaign approaches up my sleeve. I knew where, from where, and how to drive traffic.
3) Could you please tell us more about your experience in affiliate marketing? How did you start – on your own or with an affiliate network, maybe with a team? What verticals have you tried and what were your successes and failures?
The term affiliate marketing itself was popularized after I had experience in large sales via the internet. CityAds, Atmidat, AD1 (now Offerum) were growing before my eyes, they were one of the first user-friendly software on the Russian market. I was mostly working solo. It seems to me that the trend for affiliate marketing teams appeared after a bad experience with hiring affiliate specialists in CPA networks. Thanks to info marketing, I knew that the best turnover was in the niches of sex, finance, and health.
I was driving traffic to weight loss products, all sorts of health courses, and financial partnerships.
There were no disappointments, although affiliate marketing always seemed to me too troublesome and not the most stable.
4) Now we would like to talk about your transition into the field of web processes automation. At one time, your paid Instagram product "Pervonakher" helped people gain more than 1 million subscribers in 2-3 months and 100-200 thousand subscribers per week. As we understand, these were just those sweet times when the mechanics of mass following, mass liking, mass looking, etc. worked on Instagram.
Today, your paid Telecobra bot has a "Pervonakher" function featured in it. Could you tell us what results are being achieved with its help today, in 2023?
"Pervonakher" on Instagram showed good results after the mass following approach had almost exhausted itself. At the moment, mailouts and invites work well on Telegram (although the latter has already been repeatedly sanctioned by Telegram, so, perhaps everything will change at the time this interview is released). Therefore, not many people work with "Pervonakher", and they try not to share good results. But I see these people in the feed under new posts, I see it on our server that people use it. "Pervonakher" itself is complex to set up. This abusive tactic will still show itself in all its glory after clumsy methods are fixed.
5) Are there any bots in the Cyber Cobra Telegram stash that help to work with creatives (for example, remove watermarks or make gifs), collect Google Analytics metrics, statistics on Telegram channels, generate UTM tags, check the "purity" of the site, and the like?
I am a supporter of making unique original products – this is a good strategy that allows you to survive and not get lost among a bunch of analogues 🙂 Our main task is to generate traffic using automation. We specialize in just that. For analytics, there are TGstat and other services.
6) Now, let's talk about Telegram. According to your personal observations, how much tougher has the spam filtering system on Telegram become lately? And is there some kind of safe mode for cold mailings so that the account is not blocked? So, let's say, a rule stating that 10 messages with the same text sent to different recipients within 5 minutes could be considered safe – are there similar parameters in terms of the volume of messages, the number of recipients and the time interval for safe distribution?
Telegram rolls out updates every three months. We constantly adapt to new filters, constantly finding holes. For example, right now, we send messages from old channels by forwarding. Again, the mailing works great. Telegram is difficult in this regard, because it is a messenger, sending messages is the main function. No social network hasn't yet defeated us 🙂 It is unlikely that Pavel Durov will succeed. In the end, we will turn it into a garbage dump and a new product will appear on the market, which people will switch to and the story will start all over again! :)))
7) How much easier is it now with targeting on Telegram? Judging by what we see, over the past six months or a year there have appeared many more ads. Regarding the topic of the current, in your words, lack of "advertising blindness" for Telegram's audience (if you compare it with the audience on Facebook, Instagram, TikTok, etc.), does such an increase in targeting on Telegram lead to the same "advertising blindness"?
Targeted ads have just been introduced; they're practically nonexistent just yet. The audience on Telegram has just appeared. They're learning, beginning to get used to new complex Telegram features. Many do not even understand that this is even advertising and that they can also advertise there. On Telegram, everything is just beginning, it is important to understand this.
8) During Webvork's live stream on February 22, you said that Telegram at first glance is quite simple compared to other common sources of traffic like Facebook or TikTok, but when you start to really get into it, it is quite difficult to master. What is the complexity of Telegram today, in 2023?
Telegram does not give out the data of its users – it has limited targeting options, much fewer functions now. The entry threshold is high. It is absolutely not clear which channels have a live audience, and which ones have 50% of their audience as bots. Plus, it's still a messenger. It by itself is not designed to display ads. There is simply nowhere to put them. So, they decided to depict ads as posts in people's channels, and without permission. Many users believe that those are actual posts by the author of the channel or just some kind of spam.
9) According to you, Telegram is struggling with the emergence of various workarounds that are regularly invented by Facebook and TikTok affiliates, and a high entry threshold – the costs for official advertising on Telegram start at $3,000. How do you think Telegram will develop in this direction further and how will this development be affected by the situation on other social networks and messengers? Will this high entry threshold hold up like that?
Yes, of course it will, the maintenance of such a social network requires huge monthly expenses. Millions of dollars. Now, they are actively squeezing money from users.
It seemed to me that Telegram ADS does not bring much income and they switched to selling Telegram Premium. Maybe I'm wrong, but there is still a lot of work to be done to develop a full-fledged ADS network.
10) On our live stream on February 22, you said that in targeted Telegram ads "there is practically no second moderation". So, in what cases can a targeted ad be subject to re-moderation?
If you change links, Telegram will see everything.
11) You said that crypto wallets are stolen from Telegram using questionable methods. How widespread is this now, how will Telegram itself deal with this in the future, and how can the owners of crypto wallets not fall for it now?
Do not keep your cryptocurrency in Telegram bots on personal accounts. This is the most unreliable place.
Just as we are automating web processes on Telegram, there is an equally large fishing industry. Evil never sleeps. Nobody can relax. You must always be on the alert!
12) And, by the way, in 2023, many large affiliate marketing media resources started talking about the fact that a massive wave of account hijackings began on Telegram (including us, we wrote about this in our blog too). What can you say about this situation with thefts now? How can accounts be hijacked now and how can owners of Telegram accounts protect themselves?
If your account is well protected, then stealing it will not work. We are not engaged in theft and this topic is not interesting to us. Try to log in less with your account on any services. Set a two-factor, complex password, link your mail. Always keep an eye on the device tab. Delete unnecessary connections.
13) And now a cute, extravagant, and somewhat amateurish question 🙂 It seems to us that the trend for having a little star next to your name on Telegram has passed, or is it just our perception? Did these stars provide any hidden benefits or not, were you observing this from a long distance?
Telegram Premium is selling well. If you look at my group, every 10th, well, maybe every 20th member has this star. It seems to me that this is quite a lot. Basically, there are no benefits that Telegram gives to its users for the money they ask, but I think over time they will develop a more interesting deal. In general, a very ambitious idea for Telegram is to charge $5 per month per user. I think we will gradually get there. Everyone will buy Premium and their signup process will require a passport :))) Progressive digital socialism is just around the corner.
14) You also said that you believe that the entire market will belong to Telegram and most of the trading operations and transactions will be carried out within Telegram. How many years do you allocate to the realization of this prospect, just a ballpark? And why is your belief in it so strong?
150 million people living in Russia believe Pavel Durov, it's just a fact. All his recent political statements indicate that he is a businessman and longs to take over the world, ready to say anything so as not to lose profits. It inspires confidence in the success of his enterprise. YouTube has videos, Instagram has photos, and the written means (that are the basis of communication) go to Telegram. The belief that these three sites will be on top in the next 10 years is absolute. There is no alternative to Pavel's product on the market, and when it appears, it will take years to catch up and overtake Telegram.
15) What would you advise to those who have read the entire interview?Follow the link, buy our software, join our community, and start your path to cyber enlightenment right now, without wasting a minute!