Affiliates talks: Evgeniy Selischev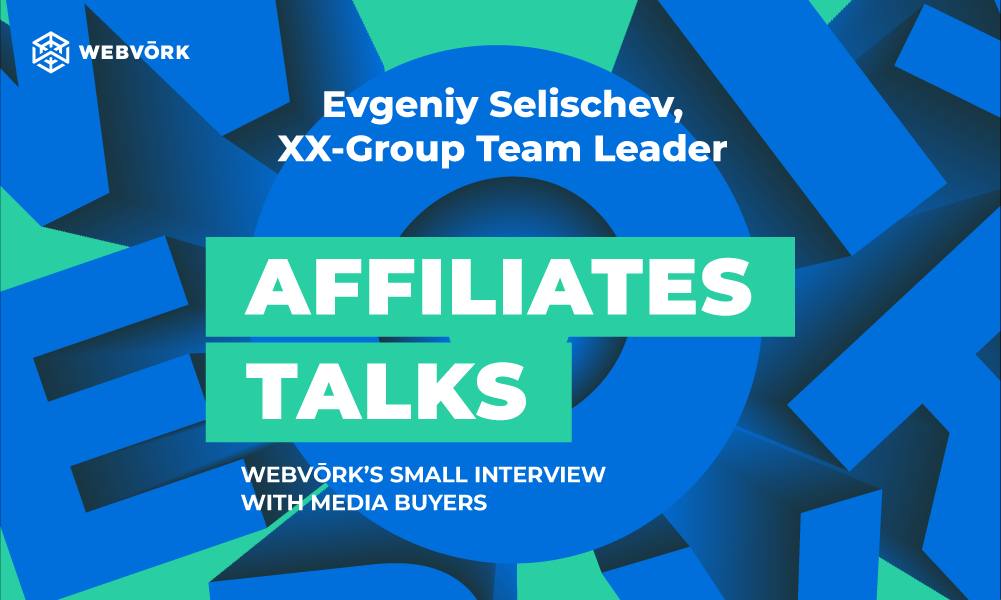 Today, we're happy to interview one of the recent speakers of Webvork's New Year's stream on Dec 12th, 2022, XX-Group team leader Evgeniy Selischev. We talked with Evgeny about the reasons for leaving the gambling vertical for nutra, about two ways to reduce CPM, the most effective approaches that XX-Group uses for their creatives and transit pages, about whether it is possible to copy 1 white page and use it in different advertising campaigns, as well as about the goals that team leaders are meant to accomplish, and much more.
So, Evgeniy, who were you and what did you do before affiliate marketing? How did you get into the Betsson Group (a large Swiss holding, casino betting)?
Before affiliate marketing, I worked the most ordinary jobs – from a tinker at a factory to a store manager. I started working with traffic thanks to my sister. At that time, she worked at the Betsson Group and we had the idea to attract traffic to their offers by integrating them into our country's gambling affiliate programs and attracting large media teams. At that time, their offers weren't widely represented in the affiliate marketing community, largely because the CPA payment model was practically absent… We had a tandem, I negotiated on the side of the Russian community, and she on the side of Betsson.
As you said, right now you're working as a team leader for XX-Group, mainly working with nutra offers: joints, weight loss. Basically, you're driving LatAm traffic, but now, you also have a successful experience with European GEOs. Tell us, what are these countries and do you plan to expand more to Tier-1 countries in 2023?
At the time of that live stream, things were better. Now, there's a small drawdown, and in general, our conversions on Facebook aren't as good. As far as I know, this isn't only our problem.
If we talk about Tier-1 countries, these days, we are trying to work with such a GEO as Canada and testing Germany. If you'd like to consider our successful experiences, then this is more about Google, not Facebook.
What does a typical day of an XX-Group team leader look like?
Calls, planning, tests. 🙂
At the beginning of the day – a general call with the team. Debriefing, solving current problems, setting plans. Analyzing current indicators, distributing who works with which offer, and who tests what.
Then – a general call with team leaders and other representatives of departments, with the farming department, product manager. We can say that the tasks here are the same as on my call with the team but at a more global level. Budget planning, account and farm setups, developing transit pages.
Next – tests, searching for ad campaign approaches that can be shared with the whole team and scaled.
In a recent Webvork stream on December 12, when asked which GEOs were the best in 2022, Timur Sharipov, for example, in addition to Latin America (Colombia, Peru, Mexico), also named the countries of the former Yugoslavia: Albania, Serbia, Bosnia. Among your successful GEOs, you named only Latin America. After listening to Timur's point, is there any desire to enter the GEO of the former Yugoslavia, or maybe you have already tried to drive traffic there?
Yes. Of course, it's tempting. Now, I'm looking to test Serbia. It's not such a popular GEO in affiliate programs. 🙂 At least for those with whom I work.
In general, GEOs that few people talk about have become interesting, as well as relatively new offer categories in the nutra vertical: for example, hearing and incontinence.
What is the average ROI for nutra in Latin America right now? And are there indicators for each individual country you target?
At the moment, I cannot brag about high ROIs. My situation is the same as Timur's. ROI rates are at 30-50%: conversion rates have sunk a lot, and we only get leads every other day. Moreover, this is observed in most of the GEOs we work with.
Why did you leave gambling and move to nutra? What were the biggest difficulties in gambling and what do you see in nutra now?
Let's return to the Betsson story. Despite the fact that my sister and I had a plan that was as reliable as a Swiss watch, the reality was completely different. The offers that I was promoting in affiliate programs were mediocre – some of the hundreds of other similar offers. We relied on affiliate programs and bigshot media teams. So, after we had connected everything, we didn't get any traffic. And anything we did get was so low quality.
So, we decided if they couldn't have given us traffic, then I was the one to do it. That's how I got into gambling. From that point, my sister acted as an investor, and I was an affiliate 🙂
Here are the biggest difficulties in gambling. They include ignorance of the inner workings — misunderstanding of metrics, how to work with them, which creatives convert and which don't, where to get accounts, proxies, etc. Difficulties are absolutely everywhere, in everything related to traffic. All everyone wants is, "What to click on, where to look, and when will I get the money?" 🙂
But the biggest difficulty is affiliate networks in the gambling vertical. When you contact those networks, their manager immediately knows that they're talking to a novice media buyer. So, then they give you an already dead offer, with a payout rate much lower than it can actually be successfully worked with at the moment. And so you proceed and drive traffic to it…
As for nutra, the main difficulty now is conversion rates. The price of a lead fluctuates a lot and I haven't yet found a solution to this issue, except for stopping your campaign and restarting again.
In the same live stream, you talked about a reliable way to lower CPM rates. You advised people to try and re-enter the auction at different times. But what about other ways, albeit relatively less reliable? I think it will be interesting for our affiliates to fill their piggy bank with more ways to reduce their CPM 🙂
I will describe the method that I saw Vladimir use. https://t.me/vladimircard (I advise everyone to join his channel – this is one of the few channels that posts actually useful things.)
The bottom line is, if you use an existing post that was previously "boosted to the whole world" when creating a new campaign, you can achieve a lower CPM from the start than if you created a campaign from scratch and created an ad in the ads manager interface. (quote)
This way, you promote your post to get the maximum possible engagement, with the widest possible target audience of 18-65+, covering the whole world. Run the post's campaign for 2 days, and spend no more than $25. And then you launch for conversions using an existing post that has already been warmed up to the whole world.
What anti-detect browsers and trackers does your team work with?
Until recently, we worked with Dolphin Anty, then we switched to Octo Browser. I can't say that the decision to move was linked to a sharply negative experience. But, for example, the cookie robot in Octo works much better, haha 🙂 In terms of usability, of course, Dolphin is ahead of everyone, Denis really made a great product.)
In the same live stream, the conversation turned to landing and pre-landing pages. You said that according to the standard, each of your media buyers has about 5 working landings that are constantly at their disposal. As for pre-landing pages, you said that now your team is busy creating their own pre-landings. This way, your landing pages do not change, but do you consider pre-landings to have greater significance? How is the creative process going, what are the indicators you consider first?
It's all a little different – according to the standard, each buyer was given several landing and transit pages at once that they were working with. Our order forms are located on the transit pages. We do not use landings. These days, the team leader is doing the tests.
These are created by our product manager. First, they hold a call between the product manager and the team leader pitching in ideas, drawing up a media plan – this is how we draw up the skeleton of our transit pages. Then, we work on the content of the pages, search for the site template, take pictures, create the site's layout. After, we employ it in our work, test it, looking at its CR and EPC. Then, we find the leader page and add some finishing touches to it, or give it to our media buyers for them to work with.
Let's talk about your approaches for creatives in your transit pages. Timur Sharipov, for example, identifies 18 approaches – and here they are https://teletype.in/@teamleadcpa/iquwe23iu4. Do you have your own list or do you generally agree with Timur's way? What approaches that you use in XX-Group transit pages are best for joint offers and weight loss?
Yes, Timur analyzed this topic in great detail, I now share it with my media buyers when they run out of ideas for creatives. It's a great post!
We work best with joint offers with medical approaches and adding images of joints.
In the weight loss niche, we add celebrity pictures, before/after, and show results that our offers give.
Can one white page be copied to different domains and used in different advertising campaigns, or do you need to generate different white pages for each campaign? How do you prefer creating your white pages in XX-Group?
I know that many people use a white page instead of a fan page and it works fine for them (this is when you choose to "do nothing" instead of working with a white page in Keitaro.) Personally, we download white pages through the WebScrapBook extension in the Chrome browser, we try to select topics similar to our offer. So, if our offer is in the vision niche – we download a glasses store site, joint offers – exercises for pain relief, etc. And yes, one white page can be safely used in different domains, but you should not go too far either.
Evgeniy, what, in your opinion, are the main goals of a team leader? What holes does this position fill for the team?
If we talk about holes to fill, then, of course, these are the people who will work with you. It's not easy to find a good media buyer. A person may have had a good experience in the past, but will not be sufficiently motivated due to being burnt out. Or someone may be ready to work hard, but lacking experience. The team leader should pay attention to all these things and handle them well.
You also talked about a popular way of passing advertising restrictions in 1 minute. Please, tell us more about it. Is it relevant now for the XX-Group?
This method doesn't work anymore. The GIF method is dead, unfortunately. But it's okay, you should always be able to work in a regular mode. Various loopholes and bugs are, of course, good, but you should not rely on them as a panacea.
Does XX-Group hide its campaign approaches? And how crucial do you think this will be in the future?
Occasionally, I think about the need to hide my campaign approaches, especially the transit pages developed by our product manager. But no, at the moment, we do not hide our campaign approaches in any way.
What advice can you give to those who read the interview to the end?
For those who have just started their journey in affiliate marketing, I wish you not to give up. If you came here not only for money, but are eager to understand the niche, if you are really interested, then you'll definitely see nice results with the proper approach.
And I wish the oldies in the niche to be kinder to newbies. 🙂