Affiliates talks: Denis Zhitnyakov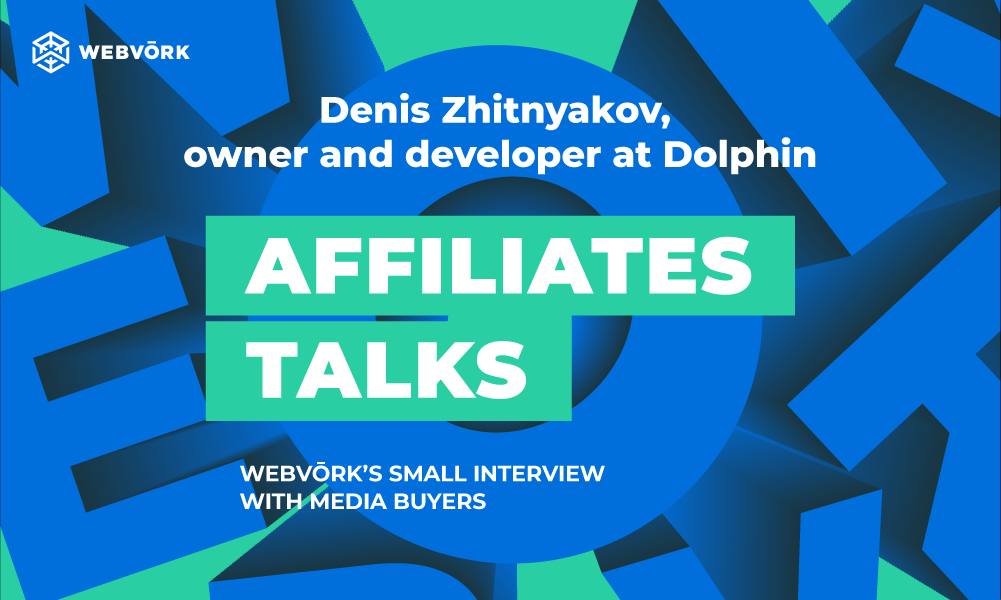 Hello everyone! Today, we're interviewing Denis Zhitnyakov, the man who developed the Dolphin anti-detect browser and other services of this already well-known brand. At one time, Denis himself was a solo affiliate and worked in a team, but his coding experience and the idea he had about creating his own affiliate marketing software allowed him to grow in a completely different direction.
In this article, we will talk about Denis's background, his plans for Dolphin, the current team behind this project, the impact of current world events on Dolphin, and what features TikTok has still to improve.
1. Hello, Denis! While Dolphin services are the highlight of your career, we'd love to hear more about your past experience working in an affiliate team.
Hello! Indeed, working as an affiliate was not as glorious for me as the creation of Dolphin services – I never won any Lambos, never went to hookah spots with the top marketers of the niche. I began working in affiliate marketing some time in 2015 as a solo player. To be honest, I have always been drawn to the technical part of affiliate marketing, i.e., it was more interesting for me to set up cloaking, domains, trackers, and other tools than to drive traffic directly. Perhaps that is why I was a rather poor publisher without an office in Moscow City and other luxuries of life. But at some point, I started earning relatively good money ($500-1000 per day) and got into the team. I even moved to Yaroslavl to go to the office with everyone. But our joint work did not last long – I again started getting "under the hood" of affiliate marketing. It was then when I started coding one of the first versions of Dolphin for the internal needs of the team. Automated launches seemed a great way to significantly simplify the routine, reduce work time, and increase profits. And that's when it began… In general, in 2020, I stopped driving traffic and completely focused on Dolphin products.
2. What areas and projects are currently occupying your working time? Or have you switched exclusively to Dolphin at the moment?
Now, I devote all my time to Dolphin – projects that are already released and those that are still only in my head and in a few code lines on our tech guys' computers. The plans are big, we definitely do not plan to stop at the three existing products.
3. We also know that you were a developer. Tell us about that period and how much experience you have, how it helped you in affiliate marketing (not including the time of creating Dolphin).
Was? 🙂 I still am a developer and still code some things for Dolphin. I have already told you how coding skills help in the work of an affiliate marketer: at least you have no problems setting up trackers, domains, and cloaking. And at most, you can code the internal automation for your team's work yourself.
4. When and how did you come up with the idea to create Dolphin projects? And what were the maximum statistics metrics you were able to reach the browser for the entire time and for one month (number of users, unique visitors, number of requests, etc.)?
I thought about automated launching while working as an affiliate. Obviously, the team needed it but it's just that the market didn't have any good solutions at that time. When Dolphin made for automating Facebook work had been released and in use for several months, we began to receive requests from users to create an antidetect browser. There were tons of comments saying how convenient it was to use our automated launches software and people were asking to make an antidetect browser too, because everything that was already on the market wasn't really working that well. When the number of such messages exceeded our internal boiling point, we began developing the browser.
I can't name any definite statistics. But I think it says a lot that we won by a wide margin in a fairly large-scale poll about which antidetect browsers people used.
5. Has Dolphin's work been affected by current world events?
At first, of course, everyone was shocked and confused. It's unclear what will happen next and it is difficult now to build any large-scale plans. There is always this "what if…" hiding behind every corner. In March, of course, there was a drawdown in terms of users and payments. But gradually, the project indicators returned to normal and now they have already surpassed the winter indicators.
Well, you can look at it from different perspectives. For example, due to these events, I moved to Cyprus, and now Dolphin is legally not a Russian company.
6. In July, Dolphin suffered what appeared to be a serious data breach. And from July 18 to July 27, you accepted claims from users to compensate for financial losses. You also said that during that period, you started getting more and more applications from those who could not confirm that the loss of their funds was precisely due to the leak and their evidence diverged from the pattern that existed for the main part of the users. That type of application, according to you, resembled financial fraud. Tell me, what was the algorithm for confirming real losses from the leak, and what percentage of the users who applied fell under that very case of fraud?
There were a few guys who cheated. Most of the theft occurred from user accounts and Bybit users. We verified emails that were linked to Bybit, checked the contents of email accounts and the history of the withdrawal of funds from Bybit. We looked at the login history, from which IPs and where the money was withdrawn. In any case, there wasn't anyone who we'd leave without compensation. When having doubts about people's honesty, we were offering subscription plans as compensation too.
7. Why did your activity in your Vkontakte community https://vk.com/dencpa, your Telegram channel https://t.me/deniszhitnyakov_blog, and your blog stop?
Simply because I don't have enough time for it. It is difficult to be a project manager, a programmer, live my life, and still have time to keep these public pages running. Right now, there are more important things to do. It'd be possible to give these content tasks to an SMM manager, but I don't like this approach when someone else speaks on my behalf. It's sort of like lying to my followers. Although, to be honest, I love writing and hope to get back to blogging someday.
8. Dolphin offers 4 of its services: automated campaign launches of Facebook Ads, TikTok, Uniq, and Anty. Tell me, are there new services lined up at the moment? Then, perhaps you could make a little announcement?
There are many more services planned to be released someday, some of them are already being developed. But we aren't ready to make any announcements yet.
9. Can we hear something about the Dolphin team? Who are these guys, what background do they have, how did you get them together, and how many people are on the team at the moment?
At the moment, Dolphin has about 50 full-time employees and a few part-time people. The guys are from absolutely different parts of the world: Portugal, Thailand, Ukraine, Armenia, Russia, and so on. Of course, they're all professionals in their fields. Not all of them have experience in affiliate marketing but now, they are deep into this mysterious world. We found some of the employees on a head-hunting website, and some of the employees are acquaintances of those who already work for the company. Friends pull up friends, friends of their friends, and so on.
10. Dolphin has a new feature – an RPA constructor. Are you planning on creating a manual for it?
Yes, there will be a manual, of course. The constructor is now in beta testing and this is far from its final look and functionality. When we collect enough feedback, we'll do everything as neatly as possible, and release a manual.
11. Do you think you need to create Dolphin tutorial videos for beginners?
Such videos already exist. Both on our YouTube channel and on the channels of our partners.
12. Why does Dolphin no longer have support services over Telegram?
Because it's much easier to process tickets in a program specially created for this purpose. It doesn't lose people's requests, has statistics, analytics, and a feature for distributing tickets among support specialists is more convenient, etc. Telegram was enough before, but as the company grew, we realized that we needed a different tool for this.
13. Are there any activity limits for farming Facebook accounts for working with the Dolphin antidetect browser? Or is there no limit to activity, but you won't get banned on Facebook or anything else when working with Dolphin?
There are no limits in Dolphin. Accounts aren't linked or connected, so Facebook doesn't know if you create 5 accounts or 500. In the autodetect browser, we have users who have more than 10,000 active accounts, so there's no number here.
And now, as for Facebook bans when working with Dolphin. There are users who believe that our api triggers Facebook or that it bans them because of our antidetect browser. We create chat groups with such users and conduct analytics, perhaps, it's really our fault they get those bans. But if accounts were really banned because of our products, we would hardly have so many users. We even asked large teams about this in an interview about Facebook triggers. The guys said there is no such problem. Here, for example, is an interview from Traffic Devils.
14. At the end of May, Dolphin Anty had a promotion "moving" new users, allowing them to switch their old antidetect browsers to Dolphin Anty. If a person had more than a month of paid access left, you compensated the rest of the paid subscription in your other service + gave them up to 2 months of free access to Dolphin. And also, if the user had less than a month of free access left, you compensated them for the duration of their subscription + 1 month of free access to Dolphin. Do you have similar generous promotions coming up?
This is more of a question for the marketing department. But I guess yes, why not. The move worked well. I think the guys will come up with more cool promos.
15. In April, in your TikTok automation community on Vkontakte, you mentioned that you have delved into the coding of your TikTok service so much that you can already give advice to their developers. What would you like to improve on TikTok and why?
It's clear that their advertising platform is still, if not active, then at a rather confused development stage. We have already lost count of how many times, over the past six months, the developers of the platform have changed its various components.
It's very annoying, to be honest. Because it's still not possible to develop a stable service that will definitely fulfill all the necessary requests to TikTok even tomorrow. And the day after tomorrow 🙂
Roughly speaking, we are sitting on a volcano and waiting for what the developers will do this week. Instead of caring about expanding the feature set, you have to regularly patch up inconsistencies that arise out of the blue unexpectedly and at those points that seemed to be left as fully developed already.
It's a certain peculiarity of the platform. I don't think it will always be like this but for some time, we still have to live in this reality. Therefore, if the developers of TokTok's advertising platform can hear me, then I would like to wish them to stop, exhale, and freeze at least part of the features – let them be and work!
16. Give some advice to those who read the whole interview.
I don't think I'm in the right position to give advice to anyone. Therefore, I will say a rather primitive thing – do what makes you happy, and everything will work out.