Affiliates talks: Andrey Kolchenko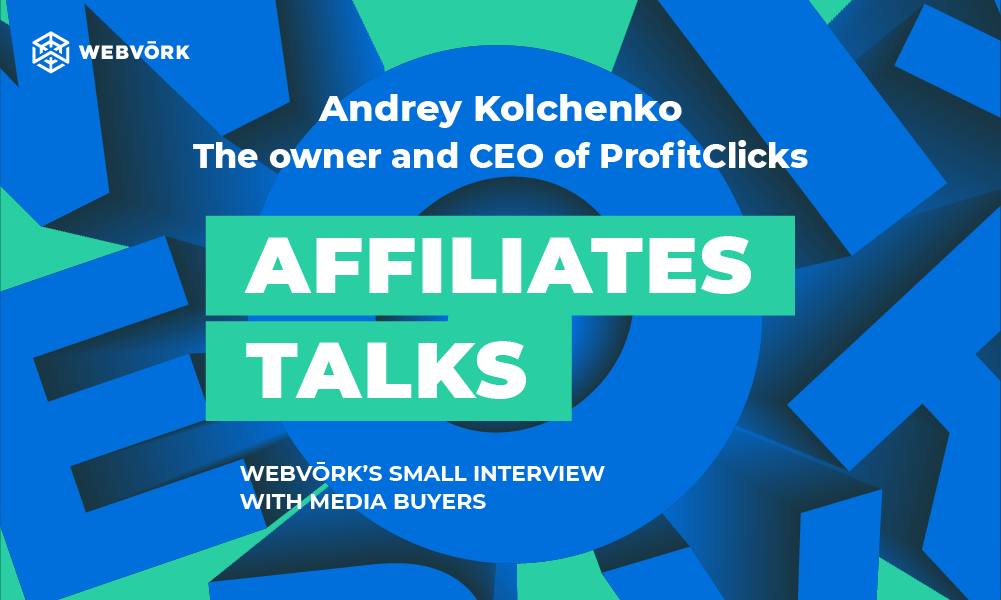 Hello everyone! This time, we invited a truly iconic person of the affiliate world – Andrey Kolchenko, CEO of ProfitClicks, a network that's been presenting itself since 2016 as "a company that creates the hottest solutions in the field of online advertising." Also, today, Andrey is the owner of one of the largest commercial CPA networks in the Russian segment – Oneprofit, as well as other great projects that he himself will tell us about.
In the interview, we asked our guest to talk about his companies in detail, about what's currently happening with conversion rates in the nutra and commodities markets, about traffic post monetization (i.e., making those users who didn't convert go ahead and make a conversion too) scripts, and other interesting aspects, with actual numbers and illustrative examples.
Hello, Andrey! You are primarily known as the owner and CEO of ProfitClicks. But not everyone from Webvork's audience knows anything else about you. Tell us a little about yourself!
Hello! I came into online advertising about 8 years ago and gathered my own affiliate team 6 years ago, we were driving traffic with teaser ads. It was an amazing time, you could just copy a pre-landing page, upload your teasers, and get 50-100% ROI for months (unfortunately, now, it's not the case for teaser networks anymore). Gradually, the focus changed to our own technical solutions and products, which allowed us to grow significantly. And now, we have about 200 people working in the company.
One of your video interviews had an interesting title. It said, "$200,000 made with download traffic in 20 years." Tell us more about this achievement.
It was the first significant earning I got from the Internet. I created my own browser extension and distributed it through download-type affiliate networks. ROI then was over 100%, and in general, this experience allowed me to earn money for my first apartment, car, and even invest in some kind of pyramid :D. It was more like a little initiative and, after a while, the plugin stopped working.
What have your profit sources been in ProfitClicks over the past couple of years?
We have transformed from an affiliate team into a product company. In descending order, our main areas now are:
– Oneprofit.ru – CPA network with 3 products: a news showcase (an excellent product for native advertising and Google traffic), smart offers – for those who don't want to waste time on splitting pre-landing pages, and our own products affiliate network in the Russian Federation.
– Advertising network ads2.bid (we sell more than 2 million clicks per day in the nutra field)
– pushprofit.ru, this source is also still giving us nice results
– Media buying teams: Facebook, Google, native advertising
That same interview also has "1,000,000 clicks per day" in its title. Is this your average ProfitClicks measurement today, or was it some kind of a temporary record?
That was, if I'm not mistaken, over a year ago. Now, the number is 2 million clicks per day.
How did the well-known February events affect you and the company as a whole? Have you made any changes and what track are you trying to stay on today?
In March, we had a strong drawdown: Google and Facebook left the Russian market (and these were the basis of Facebook and Google media buying), all Ukrainian sources were turned off (which was 15% of our turnover). We even reduced a number of investments. But we started recovering in April and by June we reached our pre-war levels and continued to grow.
I can say that in general, the nutra market in the Russian Federation has not sunk at all, conversion and approval rates are alright.
What is your working time filled these days?
My career path looks something like this: affiliate marketing specialist -> team leader -> product manager/director of a startup -> product manager of 5 products at the same time/director -> director of a holding company.
To a large extent, the products and teams that I described above are already developing without me. I am involved in the strategic development of the company's products and functions.
Now, I've started a new project called ProfitLab. It's a venture studio where we test new business models in areas close to affiliate marketing. We started actively working only a couple of months ago and so far, there are no positive results to share. But the model is calculated on the basis of our previous experience and there are high chances that it should bring a positive result.
OneProfit is now one of the largest commodity affiliate networks in the Russian segment. Tell us more about its current state of affairs, what foreseeable prospects you see regarding the network, talk about its offers, and how and with what people the OneProfit team was formed.
Yes, we have a fairly large commodity affiliate network based on OneProfit.ru. In general, the business model of product affiliate programs was formed 5 years ago and it hasn't changed much since then. The main thing is to continue to maintain the current level of quality and pull up our rates by adding more improvements.
I would also like to hear more about your ADS2.BID project – what it is, its current performance, and how many people you have on the team.
This is a native advertising network, both for websites and affiliates. We have about 30 people working on the project. Most likely, ADS2.BID is the largest native advertising network for affiliates in Russia and the CIS. In addition to the Russian Federation and the CIS, we also have traffic from Asia and it's actively growing.
You also talked about the department of ProfitClicks native advertising news buying. Tell us more about it.
News buying is a department that buys news traffic for our showcase (with which, however, any affiliate can drive traffic with the OneProfit.ru service). We have been working on growing the team for several years and have reached the point where now the team has 40 people who buy news traffic from a variety of sources.
In your opinion, what is happening now in the nutra and commodities markets, and what about their average conversion rates?
In the Russian Federation and the CIS, conversion rates have only grown over the past year, which is a little strange since before that, conversions were low and we predicted a drop in profitability in the long term. But the trend has changed, and, among other things, by investing in creating your own highly converting pre-landings, it is now possible to increase these indicators.
What do you think about the future of affiliate marketing in the CIS and in foreign markets? How do global IT trends influence the CIS and foreign markets' situation?
Speaking for Russia and the CIS, in general, the probability is quite high that the market will exist for several more years. The main risk is amendments to the law on advertising, according to which all advertisements indicating legal entities must be submitted to the Roskomnadzor 🙂 While there are different scenarios for the development of events, we aren't too pessimistic yet.
What happened after MyTarget bought Yandex.Zen?
Yandex.Zen and Yandex news is a fairly large traffic resource. In general, affiliates are much more active on MyTarget than on the Yandex Advertising Network. So, the purchase had a positive effect on affiliates' work. And this is especially noticeable in the traffic growth from MyTarget to our products 🙂
What platforms are still operating in the CIS?
Native advertising networks and MyTarget now provide about 80% of traffic. The rest falls on Yandex.Zen (free traffic from channels), and Google Ads (CIS only).
If the question is what kind of native advertising networks provide traffic these days, then, of course, ads2.bid is the top one.
And for buying traffic for news showcases, I can recommend kadam, ads2.bid, adwile.
In your speech at Kinza a year ago, you talked about traffic post monetization scripts that increase nutra income. The top approaches were push notifications subscriptions and "Go back" buttons. Does it still work the same way today or have you already done some new analytics and seen new trends?
There are no new trends, but the back button and push notifications are still a great way to monetize the traffic that hasn't yet converted. Increasing income by 20% isn't a marketing slogan but a standard income from post monetization. This is today's reality for native advertising or Google Ads traffic. With Facebook, as a rule, the figures are lower by about 10%, but, again, I'm not talking about any private cases – this is what our media buying department achieves on average.
You combined these 2 scripts in the Oneprofit.ru portal, right? How many countries are currently connected to these scripts?
More than 30 countries are now connected. In general, these are the main countries from where people drive traffic to product offers under the COD model.
Give advice to those who read the whole interview.
It's hard to pick just one piece of advice. Firstly, it depends on who is reading the post: a beginner affiliate, an experienced one, or an entrepreneur. But I can single out a couple of significant principles, in my opinion.
– The sky is the limit. In today's world, competitors can overrun you very quickly if you don't change anything in your strategy. Unfortunately, many of the top affiliates that were driving more traffic than us 5 years ago have now left the market.
I try to learn something new every day, take training courses, read books, attend conferences. But the second but still extremely important part of this advice is to remember to use your new information right in time.
– Make decisions with a long-term perspective. I remember when I was involved in affiliate marketing, I was counting my daily income every day. And when there were low approval rates, I was always getting very upset 🙂 This approach to work is harmful and has little to do with business. Such a direction of thinking did not allow the company to start growing faster for a long time. Now I make decisions for the future, from several months to several years.